July 5, 2019
What if we let kids get bored? From PBS Kids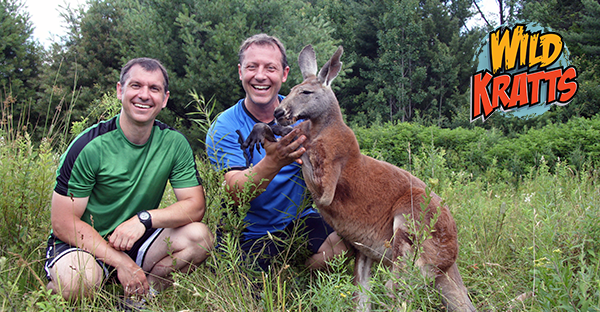 (Originally posted in the PBS KIDS for Parents newsletter)
Hey! It's us, the Kratt Brothers! If you've seen our show, WILD KRATTS, you know that we are always creature-adventuring around the globe. Together we take kids on exciting journeys to explore some of the world's most interesting creatures. We begin each one by asking kids, "what if?!" to ignite their innate sense of curiosity and exploration.
Parents often ask us how they can teach their kids about science and the outdoors. And as dads ourselves, we have an answer: what if you did less? What if you let your kids get bored? What if you let kids teach you, rather than the other way around?
We grew up in the wilds of New Jersey. We had a lot of free time as kids, and spent much of it exploring our backyard. In the summer, there was no exotic travel or fancy destinations. Our parents would take us camping in Vermont and park our pop-up trailer the middle of a giant field. There was nothing to do but go out and have our own adventures. Rather than getting bored, the opportunity to explore on our own is what inspired us to study zoology and biology, and launched our careers as creature adventurers.
While our own kids get to travel around the world with us now, we still make sure they have plenty of time to get bored. Boredom leads kids to flex their creative muscles. It gives them time to think a little bit, to breathe, explore, and figure out their own interests. It may be difficult at first, but if you give kids space to get bored, you'll be amazed by the creative ways they'll fill their time.
We are animal experts, but we also know how powerful it can be when we let kids teach us. In our day-to-day job, that means we pay very careful attention to what gets our audiences excited, and we're always taking (really good!) suggestions for new shows from kids we meet. Many of the animals we've featured in recent seasons, like king cobras, tigers, and penguins, were requested by fans.
As much as we like to teach kids about animals from around the world, we also love empowering kids with facts about the creatures in their own backyard. One of our favorite things to hear is when kids tell us they've been teaching their parents about the animals they encounter in their daily lives.
Whether it's sharing facts about praying mantises or explaining that earthworms breathe through their skin, by letting kids be the experts, parents and teachers can give their kids a tremendous gift – the gift of mastery and confidence in their own knowledge and expertise. Explaining something to someone else is one of the most satisfying and effective ways to absorb new information (we should know, since that's basically been our whole career!)
So, if you want to inspire your kids, what if you did less? Let them get bored. See what they can teach you.
Keep on creature-adventuring! We'll see you on the creature trail!
Chris and Martin Kratt